In The Clutches of the Wicked – A Christopher Worthy/Father Fortis Mystery #4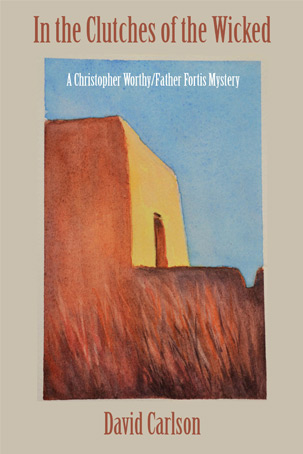 Category: Fiction ~ Mystery
Pub Date: October 12, 2019
Price: $15.95 Paperback and Canadian $18.95
Size: 6×9
Type: Trade Paperback
Pages: 212
ISBN: 978-1-94189-071-4
Publisher:
Coffeetown Press
Description:
Lt. Christopher Worthy and Father Nicholas Fortis return to New Mexico to help their friend Sera Lacey, whose husband was captured and tortured by the Taliban in Afghanistan before returning to the States, where he was arrested shortly thereafter for the murder of a fellow soldier.
Recognition:
Finalist, Foreword Reviews INDIES Mystery of the Year, 2019
Places, Objects, Items that have Major Significance in this Story
Places: Afghanistan; Santa Fe, New Mexico; Truchas, New Mexico; Laguna Pueblo, New Mexico;
Visual Elements: High Desert of New Mexico; the chapel of a Trappist monastery; the interview room of a military prison hospital, a morada, juvenile detention center.
Aspects of the Story that will Appeal to Readers
A number of readers of the first mystery expressed the hope that I would return to New Mexico in the series and to the relationship of Christopher Worthy and Sera Lacey. I have done so in this fourth mystery.
As with the first mystery, In the Clutches of the Wicked is set, in part, in a monastery in the high desert of New Mexico, with monks playing significant roles in the story. Setting this mystery within a monastery adds to its intrigue.
As with the previous mysteries in the series, this one explores the complexity of losing religious faith as well as having religious faith. Having faith isn't easy in the modern world, but losing the faith one has grown up with isn't any easier.
For fans of Christopher Worthy, Father Nicholas Fortis, and Sera Lacey, this mystery explores how they have grown in the intervening five years.