Let These Bones Live Again – A Christopher Worthy/Father Fortis Mystery #3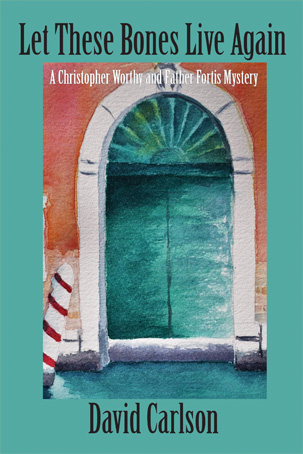 Category: Fiction ~ Mystery
Pub Date: Oct 1 2018
Price: $14.95 Paperback
Size: 6×9
Type: Trade Paperback
Pages: 190
ISBN: 978-1-60381-393-8
Publisher:
Coffeetown Press
Description:
Allyson Worthy and her renowned detective father, Christopher Worthy, investigate the apparent suicides of two wealthy Americans in Venice. Meanwhile, Father Nicholas Fortis looks into the recent theft of relics from Venetian churches. An unexpected breakthrough reveals a dark undercurrent in the city just as Allyson is unexpectedly put in danger.
Selling Points and Platform
The author has a BA in political science from Wheaton College (Illinois), an M.A. from the American Baptist Seminary of the West (Biblical Theology), and a doctorate from the University of Aberdeen, Scotland (New Testament Studies).
The author is known in media circles for making complex religious and political issues accessible to lay readers and listeners.
The author is the founder of Shoulder to Shoulder in Interfaith Witness as well as Prayer Partners for Peace, movements that combat religious intolerance and violence through public interfaith events.
The author writes regular columns for the Daily Journal, Franklin, IN. His op-eds are often reprinted in other papers owned by the parent company, AIM Media Indiana.
Physical review copies to major reviewers, newspapers, and mystery bloggers.
Outreach through social networking-Facebook, Twitter, and blogging.
The author is in demand as a public speaker on terrorism and will also be available for talks featuring the themes of religious extremism and faith present in his mystery series.
Author events at bookstores and libraries.
Praises:
"Allyson Worthy is a criminology student is finally checking off a major item on her bucket list: visiting the city of Venice, Italy. She's obtained an internship with the Venice police to help catalog non-violent crimes against foreigners. However, when she gets there, her assignment changes to one of investigating some mysterious deaths. Simultaneously, family friend Father Nicholas Fortis has been asked by the Vatican to help investigate the theft of relics from Venetian churches. Neither one knows that their two separate investigations will soon collide.
Let These Bones Live Again by David Carlson is the third entry featuring Det. Christopher Worthy and Father Nicholas Fortis. Carlson is an accomplished professor of religion and philosophy at Franklin College in Indiana. He is a proponent of peaceful coexistence between different faiths and this theme is apparent in his most recent book. While not a particularly hard-hitting mystery, it is still an enjoyable one, with an engaging plot and well-developed characters. I definitely plan to catch up on the series by reading the preceding books and look forward to the continuation of this series. I recommend this book to everyone and give it 4/5 stars."
~~ Reviewed by Jud Hanson
Author and Book Reviewer
"Homicide detective Christopher Worthy's daughter Allyson has always wanted to travel to Venice. Maybe to live there, not just visit. But … isn't there always a But? Her detective father will be there at the same time. This shouldn't be a problem, should it?
Problem there is – they had been practically estranged for some time. His police work always took time away from the family. Allyson resented this and backed away from his company. Father Nicholas Fortis is sent to Venice to investigate the theft of religious relics from churches there. This puts Worthy and Fortis together again. Allyson is there on an internship with the Venice police.
Strange happenings. Two wealthy Americans, cancer patients, have registered in very inexpensive hotels and proceeded to commit suicide! Relatives of the second victim want answers to their loved one's death. Depression was not in their DNA. As the investigation gets underway, Allyson and her father approach each other cautiously.
Along with a delicious and very unusual plot, the reader is treated to the city of Venice. The canals, the pathways, the outlying small islands, the foods, the vaporettos and the wonderful and gracious Italians. Let These Bones Live Again is the third of this series. I do so hope there are more coming."
~~ Reviewed by Mary Ann Smyth – BookLoons Reviewer
"Powerful portraits of strong characters finding love through trust and forgiveness, amid all the sights and scents of modern day Venice — a masked lady who gives up her secrets begrudgingly. All this and a crackling plot with many an unexpected twist. Though this is the first Worthy/Fortis mystery I have read, it will not be the last."
~~ Michael Sears, author for thrillers in his Jason Stafford series
"Fans of Donna Leone will find a good reason to visit Venice again, this time with David Carlson as a guide. Let These Bones Live Again brings together ancient religious rites, dying patients and a youthful protagonist in a compelling, dark mystery."
~~ Michael Niemann, author of the Valentin Vermeulen series
"David Carlson puts a novel twist on the challenges of 'East meeting West,' placing Let These Bones Live Again in a contemporary setting that will appeal to American readers. His blend of police procedure, modern religious differences and medieval practice, cyber crime, deft prose, and the thorough knowledge and skillful use of Venice as the setting and backdrop makes for a winning combination and enjoyable read."
~~ Bill Rapp, author of the "Cold War Thriller" series
Book 1 and 2 in the Series:
Enter By the Narrow Gate:
"The novel's prose is rich with religious references and imagery [….] The rapport between Worthy and Fortis is easy and enjoyable, and the double case ensures that Enter by the Narrow Gate never slows in action." -Foreword Reviews
"The cultures of New Mexico and its Native American population are explored in depth, offering many insights into the region and its inhabitants while providing a background for this intriguing mystery…. A chilling but entertaining start." -New York Journal of Books
Let the Dead Bury the Dead:
"A readable and engaging novel. Carlson's characters are real and relatable. The quality of a mystery series lies not in how well- crafted the first book is but in how well-written the second is. In this case, the second installment matches the first in quality." – Rich Gotshall for the Daily Journal
4 Stars: "A sober and thoughtful mystery that presents a window into the Greek Orthodox denomination. The sleuth team is a troubled homicide detective and a Greek Orthodox monk. They work well together, and their friendship is crucial to the story." – Danielle the Book Huntress for Affaire de Coeur Magazine