Like A Thief In The Night – A Christopher Worthy/Father Fortis Mystery #6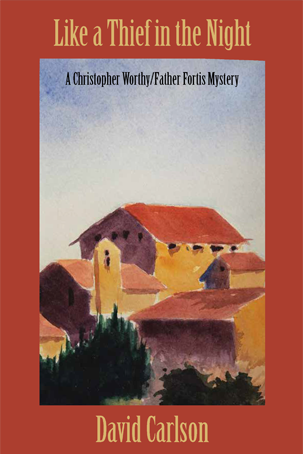 Category: Fiction ~ Mystery/Thriller
Pub Date: October 12, 2021
Price: $16.95, Ebook: $5.99
Size: 6×9
Type: Trade Paperback
Pages: 258
ISBN-13: 9781603817998
EBook: 97816038138467
Publisher:
Coffeetown Press
Description:
The feast day of Saints Peter and Paul in Rome deserves better than to be spoiled by a prank. That's what the sleuth Father Nicholas Fortis thinks as he watches a drone hover over the huge crowd in St. Peter's Square.
Annoyance turns to terror when the drone detonates a bomb that narrowly misses killing Pope Gregorio and Ecumenical Patriarch Michael of the Orthodox Church. At nearly the same moment, an employee of the Orthodox headquarters in Istanbul opens what he thinks is a gift of pastries. It is the last mistake he will ever make.
At the Patriarch's invitation, Detective Christopher Worthy joins Father Fortis and Italian security forces in seeking to apprehend the killer. An unexpected complication is the arrival of Margaret Cleery, a self-proclaimed mystic from Ireland. An instant media favorite, Mother Cleery delivers messages critical of both the pope and patriarch that she claims are from Jesus.
To determine how to deal with Mother Cleery, the Vatican hires Lena Fabriano, a specialist in abnormal religious experience, and plants Father Aiden O'Malley as a mole among Mother Cleery's followers. But Father Aiden has his own agenda, a dangerous one that inadvertently furthers the goal of the assassin.
At Father Aiden's encouragement, Mother Cleery takes her messages to Jerusalem where the assassin makes his next move-inciting a riot at the holiest site in Christianity, the church of the Holy Sepulcher. The riot accomplishes the killer's goal, that being to convince the Pope and Patriarch, accompanied by Worthy and Father Fortis, to travel to Jerusalem to intervene.
The assassin sets in motion his ultimate plan to throw the religious world into chaos. Only Worthy and Father Fortis stand in his way, but can they unravel the assassin's bizarre clues in time?