Wrapped In Darkness – A Christopher Worthy/Father Fortis Mystery #5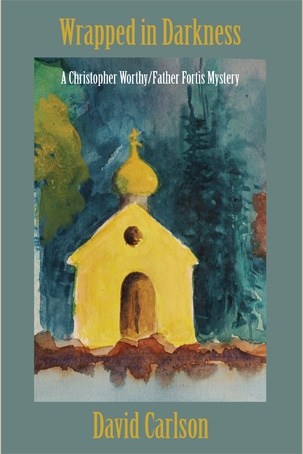 Category: Fiction ~ Mystery/Thriller
Pub Date: October 8, 2020
Price: $15.95 USD / $18.95 CAD / e-Book $5.99
Size: 6×9
Type: Trade Paperback
Pages: 224
ISBN: 978-1-60381-659-5
Publisher:
Coffeetown Press
Description:
A woman's body is found at the gate of an Orthodox Monastery in Michigan's Upper Peninsula. The police arrest a young monk with a violent past, while Father Fortis and Christopher Worthy are convinced that the killer hides in the shadows and is ready to kill again.
The monastery of the Holy Dormition sits peacefully on a remote shore of Lake Superior until a fall morning when the body of a skinhead female is found outside the monastery's gate. For the police, all the signs point to the youngest monk in the community. Although maintaining his innocence, Brother Vasili has a violent past, but even worse, he had an altercation with the female just days before at a local farmers' market.
Having met Father Nicholas Fortis previously and remembering he is both a sleuth and fellow monk, Abbot Tikhon begs Father Nick and his friend and colleague, Detective Christopher Worthy, to investigate the events surrounding the woman's death. Father Nick and Worthy agree to help even as they feel the resentment of the other monks.
It is quickly clear to Worthy and Father Fortis that Brother Vasili is hiding something. When a poacher comes forward with evidence that Brother Vasili lied about his movements the night of the murder, the police arrest him.
Following a different theory, Father Nick and Worthy are drawn to Brother Vasili's confessor, the hermit Brother Malchus, who lives deep in the woods nearby. Brother Malchus has his own secrets, the first being his previous role as a trainer of Special Forces in Iraq and Afghanistan, where he was exposed to deadly chemicals. Malchus' second secret is his knowledge that one of his trainees from his past is lurking in the woods with the intention of killing him.
To solve the case, Worthy and Father Nick must unravel the secrets of Brother Vasili, Brother Malchus, the stalker in the woods, and one other monk in the monastery who has waited for the perfect opportunity to implement his own plan for revenge.
Endorsements/Praises:
Let These Bones Live Again: Here is a blurb from Michael Sears, author of Saving Jason and the other thrillers in his Jason Stafford series
"Powerful portraits of strong characters finding love through trust and forgiveness, amid all the sights and scents of modern day Venice — a masked lady who gives up her secrets begrudgingly. All this and a crackling plot with many an unexpected twist. Though this is the first Worthy/Fortis mystery I have read, it will not be the last."